UPDATE (07/06/2015):  THIS MOVIE IS NOW AVAILABLE ON NETFLIX
Anyone out there concerned about heart disease in yourself or a loved one?
Do me a favor and watch The Widowmaker.  This is the best piece of medical investigative journalism I have ever watched.  It will make you understand what is wrong with heart disease prevention in our broken health care system.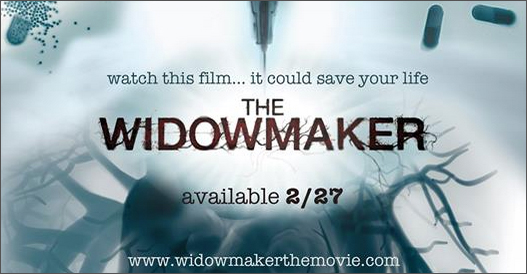 The movie also has great drama, both in the personal testimonies of ordinary folks who have lost a loved one to heart disease, and in the depiction of the political power plays at the highest levels of the cardiology community.
The trailer is below, but it doesn't begin to give justice to the richness of the movie.  To see the film, click on this link.  You can download it as a rental for $4.99 or buy it for $9.99.  You won't regret it and I agree with their tag line:  IT COULD SAVE YOUR LIFE.
Addendum (07/06/2015): Please see our additional articles on the "mammogram of the heart" and how to get started with Athletic Heart SF to get your coronary calcium health starter kit.  From a more in-depth review of the movie, you may wish to read my recent medical blog entry.